Introduction
Opportunity to team up with a trusted manufacturer to propel your company are more widely available, but its important to choose the right partner for the in order to be successful. Business owners with origins in the cannabis, CBD, plant medicine and natural wellness area are constantly working to gain that competitive edge necessary to stand out in a largely saturated market. Fortunately, your options have expanded with reputable companies such as SporesMD are offering such services and helping companies bring a larger variety of the newest natural medicine available. So even in you are looking to start your natural wellness or would like to add an array of the newest innovation in  herbal supplements to your customer base, you've come to the right place.
Where Do I Start?
While starting a new brand or even adding a new genre of products to your company can be overwhelming, we will walk you through the three easy steps to kickstart your supplement brand with SporesMD. We take pride in being a true supplements manufacturer, not a broker, and our commitment to customer service, satisfaction, and industry-leading lead times sets us apart. Let's explore why choosing SporesMD as your white labeling partner is the best decision for your brand.
Step 1: Choose Your Formula
At SporesMD, we offer a wide range of stock product formulas, carefully curated for natural wellness and alternative medicine enthusiasts. Whether you're interested in sports nutrition, all-natural supplements, or cutting-edge formulations, our extensive inventory has something for everyone. But we don't just stop there! If you have a unique vision for your supplement, our experts will work closely with you to create your custom formula. We believe in making your ideas a reality and providing you with products that resonate with your target audience.
Step 2: Branding That Stands Out
Your brand identity is crucial to success, and at SporesMD, we understand its significance. Our skilled team of designers will assist you in creating an awesome new logo and labels that reflect the essence of your brand. If you already have existing branding, we can seamlessly incorporate it into your supplement products. We take pride in offering design services that elevate your brand to the next level, making it visually appealing and instantly recognizable to your customers.
Step 3: Seamless Order Placement
Once you've finalized your formula and branding, it's time to determine the quantity of product you'd like to start with. At SporesMD, we cater to businesses of all sizes – whether you're just getting started or an industry giant. Our low minimums for custom supplement formulation make it easy for newcomers to enter the market without the burden of high upfront costs. With our streamlined logistics and shipping processes, your order will be delivered promptly and efficiently, ensuring you can start selling your products without delay.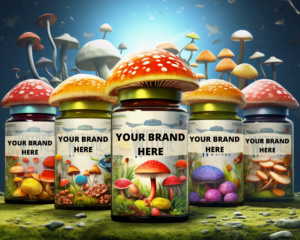 Why Choose SporesMD?
A True Supplements Manufacturer
Unlike brokers that merely claim to be manufacturers, SporesMD is the real deal. We are a fully certified, full-service contract supplement manufacturer based in the USA. Our state-of-the-art 100,000 square foot facility in Long Island, NewYork, serves as the foundation for the highest quality supplements. When you partner with SporesMD, you can visit our facility and witness firsthand the passion and dedication that go into every product we create.
Custom Formulations and Versatility
At SporesMD, we take pride in our ability to offer a comprehensive inventory of ingredients, enabling us to create virtually any nutritional supplement you desire. Whether you're interested in sports nutrition manufacturing, ketosis products, joint health solutions, detox supplements, or general health and wellness formulas, we've got you covered. Our versatility allows us to adapt to the diverse needs of the natural wellness and alternative medicine industry.
Private Labeling Made Easy
We understand that branding is a vital aspect of your business, and our private labeling services are designed to make your life easier. Choose from a full line of ready-to-sell formulas, and we'll handle the logo, label, and website design, ensuring that your products carry your brand identity with pride. Our turn-key solutions are perfect for those just starting and established industry giants alike.
Customer Satisfaction Guaranteed
At SporesMD, customer service and satisfaction are at the core of our values. We aim not only to manufacture high-quality supplements but also to help you build your brand. Our knowledgeable staff is always ready to assist you in creating tomorrow's supplements today. We take the time to understand your brand vision and align our expertise to help you achieve your business goals.
Conclusion
Congratulations on taking the first step towards starting your supplement brand! With SporesMD as your white labeling partner, you can be confident that you'll receive top-notch products, outstanding design services, and unparalleled customer support. Our commitment to being a true supplements manufacturer and our dedication to helping you succeed sets us apart in the industry. Embrace the potential of the natural wellness and alternative medicine market with SporesMD by your side.
For more information about our services, or any questions for our expert manufacturers, please fill out the form below, and we will get back to you at our earliest convenience.
White/Private Label Contact Request
Please provide any details necessary to understand your unique requirements and meet your specifications. Be assured that all proprietary formulas are treated with the highest degree of confidentiality and are manufactured in strict adherence to standards of quality and regulatory compliance within our GMP-certified facilities. Our team of highly skilled professionals are prepared to partner with you to bring your envisioned formulation to fruition.
"*" indicates required fields